St. Charles Traffic Violation Lawyers
Fighting Your Tickets & Protecting Your License
Traffic violations often seem harmless until you have a few of them on your record and your insurance rate rises or your license is at stake. At Brockmeyer Law Offices, we are capable of defending clients against any type of traffic violation.
We work tirelessly to improve your situation by seeking reduced or dismissed charges. Retain a St. Charles traffic violation attorney who understands your situation and the laws regarding your charges. With our team on your side, you may be able to avoid harsh penalties or have charges dropped altogether.
Common Types of Traffic Violations
There are many reasons that you can receive a traffic ticket in St. Charles and the surrounding areas. While some of the most common tickets are for speeding or running a red light, there are seemingly endless laws you can be accused of violating.
Other common offenses for which you can be cited include:
Driving below the speed limit
Passing a stopped school bus
Failing to yield right of way
Aggressive driving
Parked illegally in a handicapped zone
Driving with an expired/missing license plate
Driving without insurance
At Brockmeyer Law Offices, we use our extensive experience to develop strong defense strategies for these violations and others.
Consequences for Traffic Violations in Missouri
After you have been issued a traffic violation, you may be given the opportunity to pay the fine or you may be required to appear in court. If you fail to appear in court when required, a warrant could be issued for your arrest. Depending on the circumstances of your offense and whether you have other traffic violations on your record, you may face fines and license suspension or revocation.
Traffic violations are covered under section 302 of the MO Rev. Stat. Each offense carries varying penalties and a certain amount of points on your license. If the infraction is particularly serious or if harm was caused to another, you could face jail time.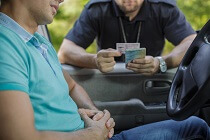 If you have accumulated four points on your license within 12 months, the DOR (Missouri Department of Revenue) will send an advisory level. If you accumulate eight points within 18 months, you could face license suspension. If you accrue 12 points within 12 months, 18 points in 24 months, or 24 points within 36 months, your license may be revoked.
Seek Representation from Brockmeyer Law Offices
Regardless of the circumstances of your violation, Brockmeyer Law Offices is committed to providing you with aggressive representation. Our St. Charles traffic violation attorneys have 65 years of combined experience – our knowledge of the law can only prove beneficial to your case.
To learn how our firm can help, contact us at (314) 582-5053.